Today more than ever, it seems that graphic designers strive for increasingly complex designs that push the edge of what's possible. It's up to printing and finishing partners to make sure that what they dream up is both effective and practical.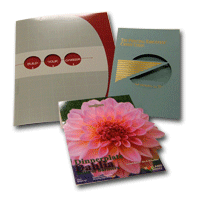 Die cutting can add an additional dimension to projects.
Though the die cutting process seems simple enough – sharp steel rules cutting into printed sheets – there's much more involved than just applying tonnage. As any experienced graphic arts production person knows, an experienced die cutter helps bring challenging projects to life.
From drawing board to diversity
Today's die cutting experts are responsible for turning drawing board designs into a diverse mix of products. Die cut pieces can be simple and standardized, like pocket folders and ticket wallets, or one-of-a-kind mailers, media holders, book covers and more. Customers can choose from an existing inventory of dies or have one custom made.
While many designers are familiar with the die cutting process, they still appreciate direction from die cutting professionals, especially when working on complicated projects. Here are some tips to keep your die cutting project running smoothly:
Lay your project out so it has a proper gripper margin on the sheet. The gripper is where the die cutting press grabs the sheet and pulls it through the press. Allow at least 1/2" gripper and clearly mark the gripper and guide sides on your pallet.
Paper weight and paper type are key variables in the die cutting process. The dimensions of your printed product frequently determines what press sheet size should be used. Let your finisher know this important detail early during the job planning process.
If you aren't sure how your sheet size will affect die cutting performance, ask your finisher for advice before ordering paper. This simple phone call may eliminate extra handling and cutting, both of which lengthen turnaround times and production costs.
Production departments should closely examine the intricacies of each die cutting project to ensure there are no obstacles to good production. Communication between the designer, printer and finisher can go a long way towards identifying potential problem areas that need to be addressed before work gets underway.
The Feiereisen Advantage
Feiereisen, Inc. is a leading provider of post press and finishing services including die cutting, scoring and perforation, book binding and restoration, folding, gluing, board and litho mounting, film lamination and UV coating, foil stamping, embossing and more. Founded in 1933, Feiereisen has locations in Cedar Rapids, Iowa, Des Moines, Iowa and Kansas City, Kansas.